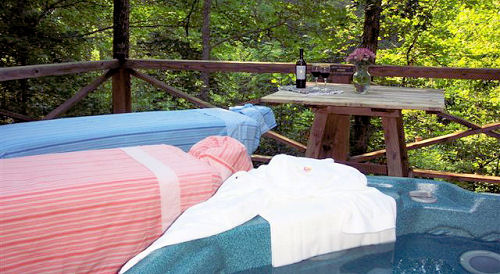 Spa Treatment Options in Your Cabin
A 14 day notice is required in order to receive a refund for any massage cancellation. If you schedule a massage within our 14 day cancellation policy, please be advised that no refund will be issued in the event of a cancellation.
Enjoy a massage or spa treatment in your secluded mountain cabin… outside on your deck, weather permitting!
Swedish Massage: This technique employs long strokes, kneading and friction. Performed on more superficial muscle layers, it is generally lighter-handed and geared toward relaxation. It is also used for warming tissues in order to perform deeper work, but can be used for the entire session. $250 per couple
Additional massage modalities are available for an additional fee. Feel free to discuss these modalities with your North Carolina Licensed Massage and Bodywork Therapists. 
Hot Stone Therapy involves the use and placement of smooth lava stones on the body and incorporated into the massage. The heat allows the muscles to soften and relax creating peacefulness and deep relaxation. $195
Other Treatments Offered:
• Reflexology
• Body Scrub
Spa/Massage Package
Enjoy a romantic two-night weekend with that special someone.
Includes side-by-side massages on your own private deck or inside your cabin and Welcome Basket.