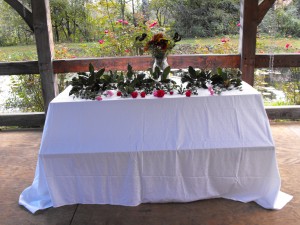 Thank you for your interest in Spring House Farm and we look forward to providing more information about our wedding services.
The peaceful environment along with the  unique combination of Southern hospitality make Spring House Farm the perfect location for every couple's biggest day. 
If you are looking for both a wedding and reception sight,  let Spring House Farm take care of all your worries and concerns.  We can do both here on the farm overlooking beautiful valley views.  Spring House Farm is a great alternative to a church or banquet hall. when deciding on a wedding venue.
Our eco-friendly farm makes it the perfect place for those conscious of our environment.
All packages can be customized, as desired.  But we have a "Wedding Package"  that is very simple and uncomplicated.  Sometimes we find this to be helpful when deciding on what is best for your most important day.
On-site Wedding Coordinator, Cathy will work with you to create the perfect Wedding for the two of you.
We do not discriminate here at Spring House Farm and treat each Wedding with respect.
Contact Cathy by calling toll free: 877-738-9798 — or click here to email us.