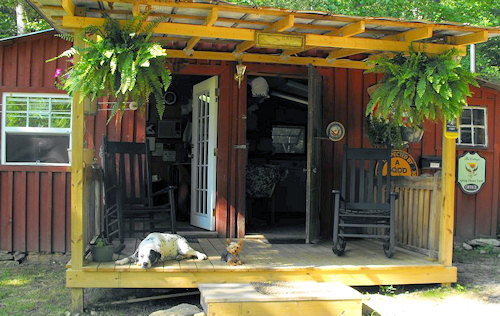 Hello again good Spring House Farm friends! In this edition I will forgo the normal format to share with you a wonderful story about our dog Mr. Jerry Lee.
Nearly eight years old by now, Jerry Lee came into our lives when our son Cailein found him as a puppy in our equipment barn. He is a mixed breed of probably Dalmation, Lab and Blue Healer and has a coat of white dappled in black spots. One interesting thing is that across his hind quarters there's a configuration of spots that resembles a constellation of stars.
Anyway, sometimes what happens in the country is that when our local folks dogs have a big litter of puppies, they will take them around and drop them off at places they think will make a good home. That's how Jerry Lee found us. A then fourteen year old Cailein brought him up from the barn pleading "Can we keep him Dad?"
Early on, Jerry Lee has been a typically good farm dog by acting as a good watch dog for the house and grounds at night and providing us good company. His disposition is one of a fairly laid back pup that loves going on walks with me and our little Yorkie "Miss Belle". The tip off for him that a good walk is in store is for me to pick up a walking stick and step off the porch.
What has happened to Jerry Lee through the years has been something that I have seen some humans do but very few dogs. While wisdom by way of maturity is a trait that is rare in humans, it's especially rare in dogs. Jerry Lee's is the exception. Through the years, he's become a welcoming ambassador for our usual Friday afternoon check in to our cabins. Big wagging tail and a happy look greets folks coming up our drive way. He's most polite and will never jump up and knows when to "Go home!".
While I enjoy our walks, apparently his love for them has grown through the years. Because of my busy schedule, I have not been able to take him as often as he likes so he has figured out that he can satisfy his love for hiking and guide our guests on our trails.
Here on the farm, we have two trail systems. One and easy and the other a two and one half mile hike that loops to the top of our mountain and back down. Jerry Lee especially likes the later. In fact it's become part of our check in process. After the usual office things said and before I hop in the Kubota to show the guests to their cabin, Jerry Lee will be sitting at the head of the trail by the office looking down at us as if to say "OK guys, enough of the jabber, lets get to this hike!"
I ask those guests interested in this hike, to show up at the office and call Jerry Lee. Once on the hike, Jerry will stop and wait patiently for those that may not be in the best of shape. This is the way it's been for several years with guests mentioning memorable hikes and times spent with him in the cabin guests books.
As I said a little earlier in this piece, Jerry Lee has become wise beyond his years and has become most intuitive by seemingly knowing what to do and when to do it.
This past weekend we had our usual onslaught of guest's piling in on Friday afternoon and early evening. As usual, many fancy and different cars coming and going was no different this weekend making it most difficult to remember which and what color belongs to which guest and where it's going.
No different this weekend when guests checking in to our two bedroom farm house cabin we call "The Appalachian" announced that the balance of their party would be arriving late and that they would be at the office to greet them. With everyone bedded down and nestled in their cozy cabins, it was off to two town for me for a last minute grocery run. After a couple hours and darkness having fallen, turning onto Hayes Road approaching the farm, I noticed a pair of head lights making it's way along the road leading to "The Appalachian". These were the late arrivals.
Being in the innkeeping business, one doesn't really relax until everyone has found their new home here on the farm. This time was no exception as finally everyone was in and comfortable. The following morning we had the usual few guests stopping by the office and looking for Jerry Lee to guide them on their hikes including the folks who checked into "The Appalachian" the night before.
They came with an amazing story indeed!
It seems that the late arrivals were off on their arrival time estimation and were stranded at the office in the dark with no one present to greet them. That is except Jerry Lee! The story went that when the party arrived, there was Jerry Lee there waiting in the dark with his usual wagging tail and happy look on his face. An obvious and anxious pause became apparent to both Jerry Lee and the wayward party until Jerry Lee decided to act. He then turned and headed down the road leading to "The Appalachian". They said he stopped and looked back at the car waiting for the folks to start the car and follow. They said he casually walked down the road twards "The Appalachian" patiently waiting for the car to begin the trip. What I forgot to mention was that he led them all the way to the correct cabin!
This weekend was no different with most cabins full and everyone checked in. So a couple questions arise. How was it that Jerry Lee knew which cabin to take these guests to? The other question is that why did these guests have to confidence to follow some dog that they didnt know on a very dark night to one among six very secluded and isolated cabins on ninety-two acres?
One to ponder for sure! A special dog indeed!