Hello again Spring House Farm friends! Here's hoping you all had a fun and fulfilling summer. Now it's time to pull out the sweaters and jackets and get ready for a splendid fall and holiday season.So far this fall the colors have been splendid thanks to a rather wet spring and summer. In fact even now due to our elevation of eleven hundred feet MSL the leaves are still solidly hanging on to the trees and providing some amazing colors.
During the summer, we have been busy processing and splitting stocking firewood for the cabin fireplaces. Did you know that even that the dead fall trees that we use for firewood (we don't cut live trees) still have to season or dry out after splitting for up to six weeks? We have kindling, paper and dry firewood on your cabin porches all ready for your fireplaces. Nothing's better than to get a good warm fire going in the fireplace, flip off the lights and enjoy watching the flickering light the room.
Our Holiday Season
What better way to celebrate your holiday season than to come for a Spring House Farm visit. Despite what some people think, the holiday season is for home and family. I'm sure this is true in many cases but our holiday season is very busy indeed! You see, many folks just pack a bag and head up to one of our cabins for a holiday weekend. Think of it like this. Book a cabin that is turn key which means all bed linens, towels and even robes for the hot tub on the deck! It also has a fully equipped kitchen, stocked with breakfast items with a Weber gas grill gassed up and ready for that big steak. (Who says you have to have turkey?)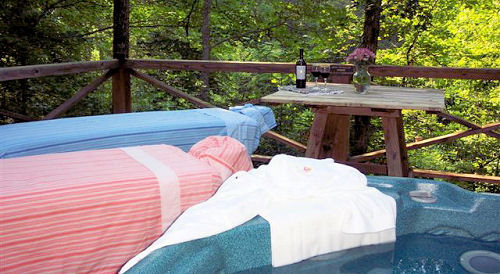 Spa Treatment Options in Your Cabin
While it may be the holidays, check out our "Spa Treats" massage services. Our therapists are licensed and experienced, with many being with us for over ten years! Enjoy a massage or spa treatment in your secluded mountain cabin… outside on your deck, weather permitting!
Swedish Massage employs long strokes, kneading and friction. Performed on more superficial muscle layers, it is generally lighter-handed and geared toward relaxation. It is also used for warming tissues in order to perform deeper work, but can be used for the entire session. $250 per couple
Hot Stone Therapy involves the use and placement of smooth lava stones on the body and incorporated into the massage. The heat allows the muscles to soften and relax creating peacefulness and deep relaxation. $195
Additional massage modalities are available for an additional fee. Feel free to discuss these modalities with your North Carolina Licensed Massage and Bodywork Therapists. Other treatments offered include reflexology and body scrub.
Things to Do
Feel like getting to town to see the Christmas lights display at Biltmore House in Asheville or Chimney Rock Park? Don't worry about standing in line for tickets as we keep a good supply here in our office. Check out our many package specials too! So, why not get away and come to the farm for the holidays.
We'll keep the home fires burning and be looking for you! Oh, and don't forget to bring your pup!
Peace,
Zee, Arthur and Mr. Jerry Lee!