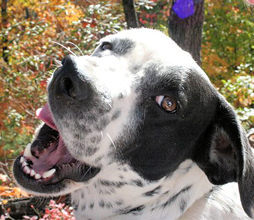 We love dogs, and we welcome adult dogs to stay in all of our cabins. We take special care to clean thoroughly after each of our guests' stay, and we expect dogs (and their humans) to be on their best behavior.
Puppies 15 months and younger are not permitted in any of our cottages. All doggie guests must be friendly, housebroken, current on all vaccinations, and treated for fleas. Sorry—absolutely no cats! Please give us a call with any questions and considerations.
If you would like to bring your dog:
There is a $25.00 per day non-refundable fee, per pet (two dog limit), per stay.
Dogs must be kept inside car during check-in – NO exceptions. Leashes are required when touring the grounds.
Please remember that you are responsible for and will be charged for any damage in the cabin, including uncleaned accidents and fumigation due to fleas. We know that accidents happen — so please promptly clean up any accident your pet might have inside the cabin.
We ask that when you are not at the cabin, you take your dog with you whenever possible. If your dog is of the barking kind, and you must leave it behind, please leave it indoors, preferably crated, with the windows closed.
Please do not leave your dog unattended outdoors, as we have other guests who might be afraid of your pet.
If your dog is aggressive or "overly interested" in other animals, please pay special attention so that he or she does not enter our barnyard meadow where there are other animals.
Please clean up after your dog outside so there are no droppings in the walkway areas or driveways.
Please bring bedding, crates, or equipment essential for your pets' safety. Please try to keep dogs off of the furniture; however, just in case, it is always a good idea to bring sheets or covers for the furniture.
Because the fiberglass shower/bathtub units are easily scratched, pets are NOT permitted to be bathed in the showers or bathtubs. Please note that all cabins are located on dirt roads, so it is suggested that guests bring several old bath towels to wipe paws after walking outside.
And, last but not least, if your pet has an accident inside the cabin, after you have cleaned it up please let us know so that we may thoroughly clean the area before new guests arrive.
Thank you for choosing The Cottages at Spring House Farm for your vacation. We hope that you and your dog will have a wonderful time and will join us again!